It's been a pleasure being at ISC High Performance 2023 in Hamburg, Germany! This year, NHR4CES and the other seven NHR centers were part of the NHR Alliance booth. The NHR Alliance was one of 158 exhibitors, with 147 exhibiting onsite. 3,015 participants attended this year's ISC, setting a new post-pandemic record. The ISC 2024 will be held May 12-17 in Hamburg, Germany.
In addition to the booth, NHR4CES members contributed tutorials, paper presentations and the so called "Sofa Talks". Here, current topics such as Benchmarking + TCO or Teaching advanced MPI were discussed in a small group with experts from other NHR locations and others from outside NHR.
Impressions from this year's ISC
Our Activities
On Sunday, Christian Terboven from the CSG Parallelism and Performance in NHR4CES presented the tutorial Advanced OpenMP: Performance and 5.2 Features, which explored the implications of possible OpenMP parallelization strategies, both in terms of correctness and performance.
And while Dmytro Povaliaiev was part of the Workshop "HPC I/O in the Data Center – Transfer Learning Workflow for I/O Bandwidth Prediction" on Thursday, Marcel Krüger presented the work "A Case Study on Providing Accessbility-Focused In-Transit Architectures for Neural Network Simulation and Analysis" at the Workshop on In Situ Visualization (#WOIV). The paper describes how our CSG Visualization provides in-situ/in-transit capabilities for analysis and visualization of simulation data which allows users to get early feedback, steering possibilities, and efficient access to analysis and visualization. In addition, Marcel also participated in the panel discussion with other experts to discuss the future of In Situ solutions.
The Sofa Talks were a great success
On Monday, Tim Gerrits from the CSG Visualization in NHR4CES kicked off the Sofa Talks on the NHR booth. He talked about recent challenges in visualization for HPC with his guests. They discussed various strategies for simplifying access to visualization.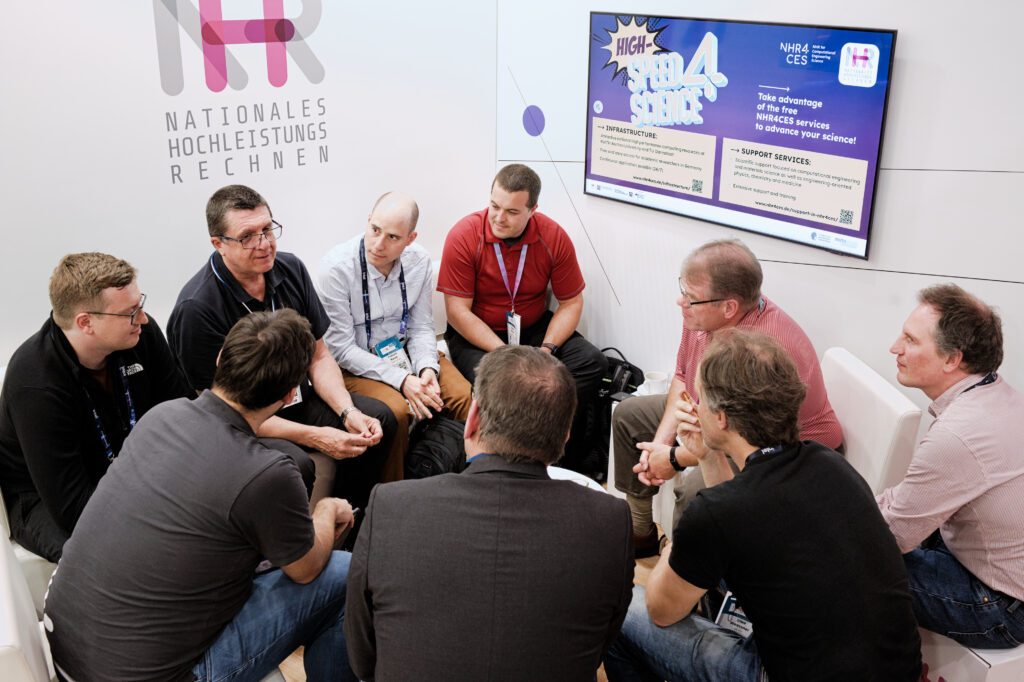 Marcel Krüger, RWTH Aachen University, Michael Böttinger, Group Head Visualization and Public Relations at Deutsches Klimarechenzentrum, François Mazen, Assistant Director of Scientific Visualization at Kitware Europe, James Kress, Visualization Scientist at the KAUST Visualization Core Laboratory, Dave Pugmire, Distinguished Scientist, Visualization Group Lead at Oak Ridge National Laboratory, Martin Aumüller, HLRS, Uwe Wössner, HLRS, Jens Henrik Göbbert, Scientific Assistent at Jülich Supercomputing Centre, and Tim Gerrits, RWTH Aachen University.
Christian Terboven hosted the second NHR4CES Sofa Talk "NHR: Benchmarks + TCO" on Tuesday. While HPL and Stream benchmarks have a long tradition in HPC cluster procurements and acceptance tests, they do not reflect the real-world usage of an HPC cluster that often runs multi-node and/or memory-bound jobs. Christian and collegues from other NHR Centers discussed in detail some strategies for establishing methodologies and best practices for NHR-specific benchmarking and TCO modeling.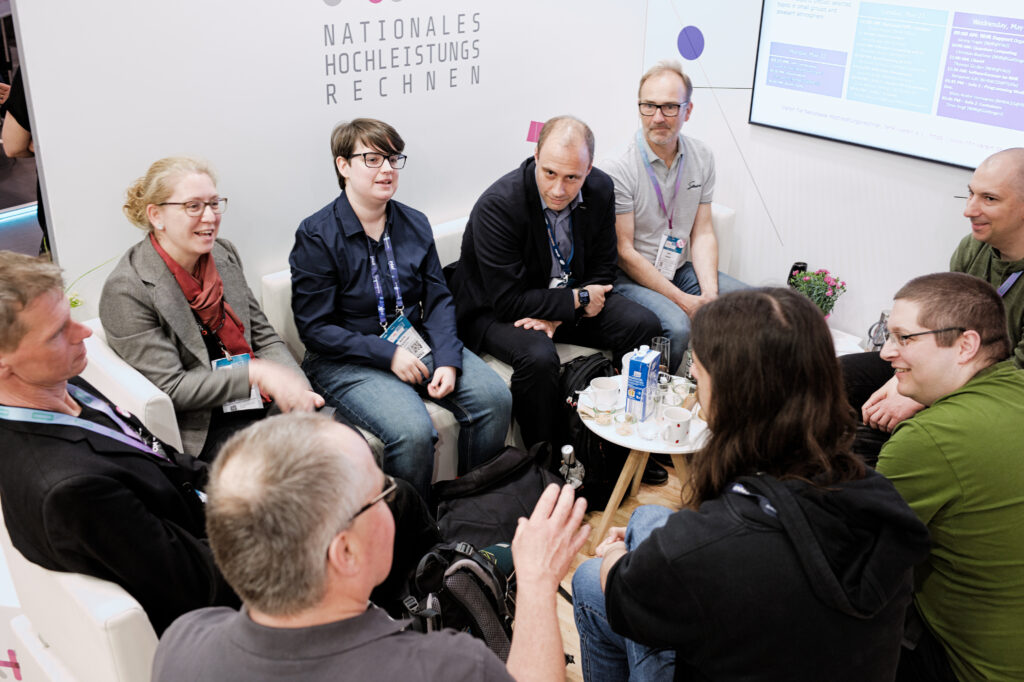 Christian Terboven, RWTH Aachen University, Jens Simon, PC2, Robert Schade, PC2, Tim Heldmann, TU Darmstadt, Christian Bischof TU Darmstadt, Holger Brunst, TU Dresden and other guests.
On Wednesday, the last day of the exhibition, Marc-André Hermanns invited his guests to discuss "Teaching Advanced MPI", while Benjamin Juhl – both from the NHR4CES infrastructure team – hosted his Sofa Talk regarding Software licenses in NHR. The goal of this sofa talk was to exchange experience with adjusting current, and discuss requirements for negotiating future license agreements.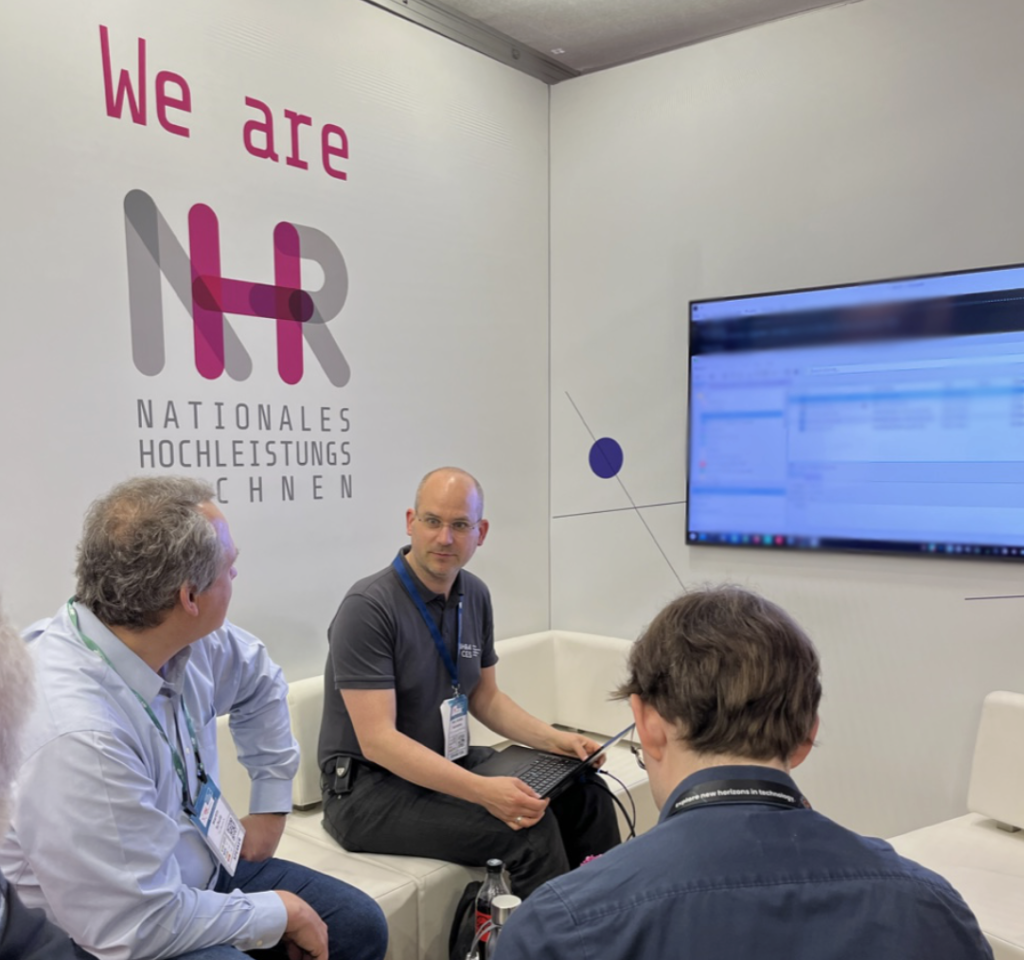 Martin Schulz, TU München, Marc-André Hermanns, RWTH Aachen University and Christoph Niethammer, HLRS.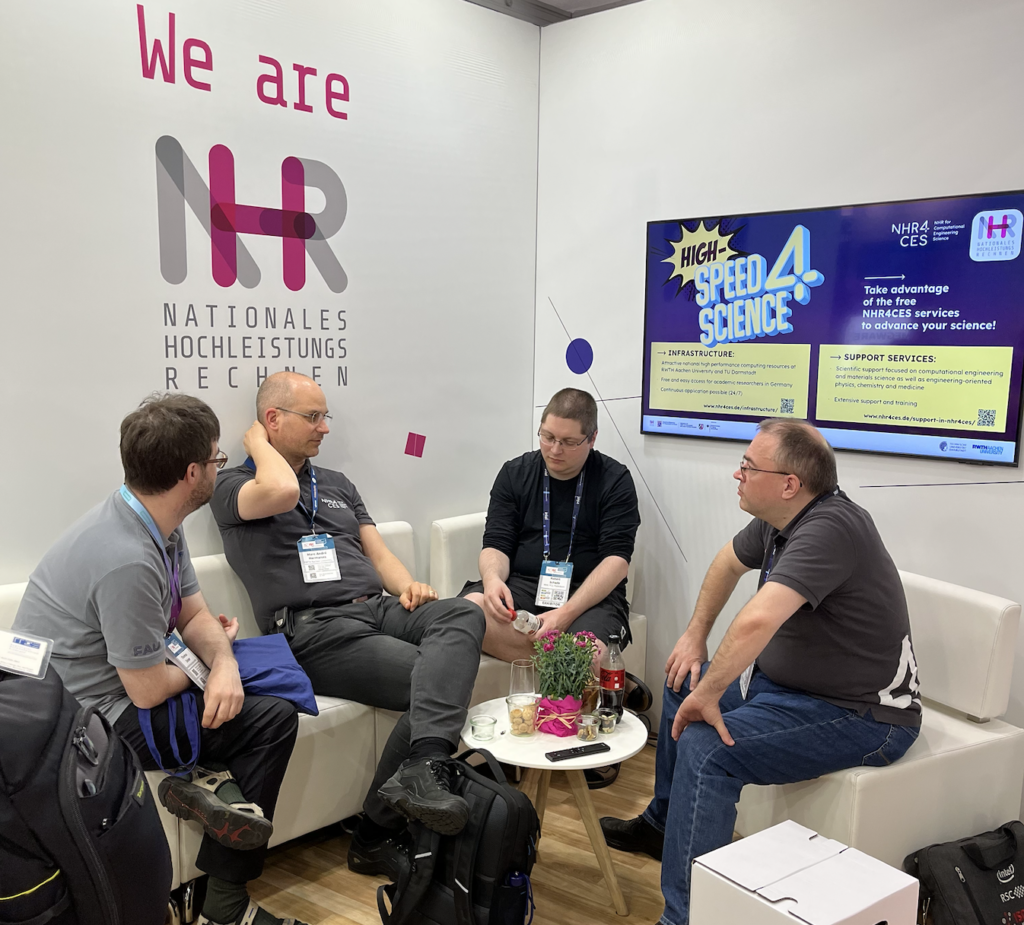 Thomas Zeiser, NHR@FAU, Marc-André Hermanns, RWTH Aachen University, Robert Schade, PC2, and Benjamin Juhl, TU Darmstadt.
Pictures: Thorsten Reimann, Svenja Wimmers, Olivera Svrzić